Nutrition after removal of the stomach
When you have got the whole stomach removed, the esophagus is connected to the small intestine.
Normally the stomach is a reservoir for the food and the food is grinded into small pieces and blended with gastric juice. When the food is sufficient grinded it is let out in the duodenum in small amounts.
After this surgery the food leave the esophagus and goes directly into the small intestine.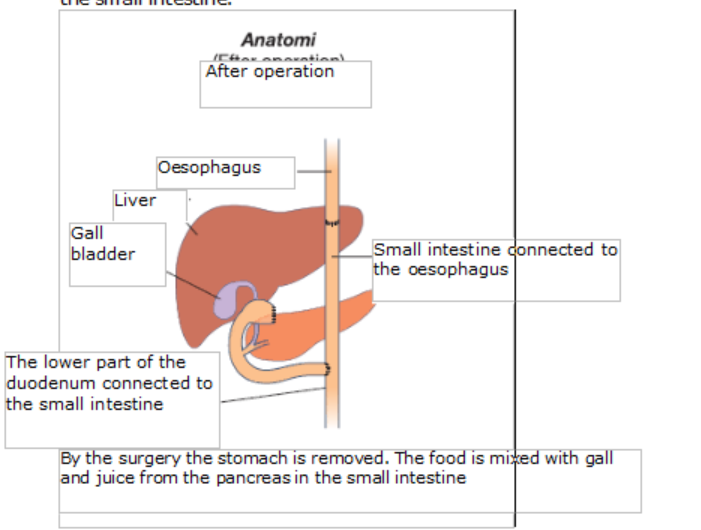 Instructions for you
We have listed some dietary advice to follow
Eat small meals and eat many times a day – maybe 6 to 10 meals a day ("a meal" can include both solid foods and/or drinks/liquids rich in calories and proteins)
Chew the food carefully
Drink only small amounts of liquid to the meal. Larger amounts of beverage and liquid meals should be taken 15 minutes before or 15 – 30 minutes after the meal
Be careful with fruits such as oranges, grapes, plums due to the peel and skin (cut into small pieces or remove the skin)
Be careful with vegetables rich in dietary fibers such as asparagus and leeks (cut them into small pieces)
Eat and drink plenty of protein. Foods rich in protein are especially found in meat, fish, egg, milk, cheese and leguminous fruit (kidney beans, lentils, chick peas etc.)
Eat a variety of foods and eat foods with a high content of energy (kJ/kcal)
Contact
Brug ikke informationen på denne side til at stille dine egne diagnoser, og følg kun instruktionerne i vejledningen, hvis hospitalet har henvist dig til siden.